Carl's Garbage Service offers weekly pick-up and removal of your household trash.
Prices start at $23.00 per month.
No contract required.
In order to keep our prices at a minimum level, we must ask that you follow certain rules pertaining to the placement and packaging of your trash.
Our requirements are:
All trash must be in trash bags.
Boxes must be emptied and folded flat.
All bags or items must be no heavier than 30 pounds.
Trash must be placed where the truck can pull or back to within ten feet of it.
We can take small appliances and electronics such as microwaves and televisions with the weekly pick-up. Please call in advance to inform us if you do have extra items like this.
Items we cannot take:
liquid painting products (paint, paint thinner, liquid sheetrock, etc.)
oil based products (oil, transmission fluid, gasoline, etc.)
car and truck tires
automobile batteries
Bulk Pickup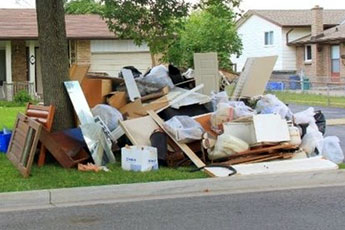 If you need a bulk pickup or large items picked up that can't be taken with the normal weekly pickup, you can request a special pickup or extra load. Our drivers on occasion will do extra loads after hours for extra income. These extra loads are usually paid directly to the drivers. Call (865) 982-4839 for pricing and availability.